How to better fit in a custom size garment?
We do custom size for make-to-order items, with a *custom size fee and **plus size fee . For most items, you may also chose "custom size" to let us make you an custom size one. Please fill in the tag during checkout, or sent us your requirement with order invoice No. after payment.
*custom size fee: USD25-30 per item
*plus size fee: We charge extra fee for plus size (waist is over 100cm/39inches ), based on the fabrics you chosen, the plus size fee is from USD10-40 per item, (this additional fee is for additional material cost, and the additional shipping cost totally).
Please notice, body size is not garment size, so you need give us your true body size (do not give us your garment size, do not edit your body size). We would tailor your clothes according to your true body size and transfer them into garment size by different design standard. For example: we would make your garment with enough spaces for comfortable wearing, or cut some data for design reason (such as for corset waist, or snugy item shoulder, or stretchy item bust, etc.).
The difference of body size and garment size:
For example, below is body size of bp bust (we need this data):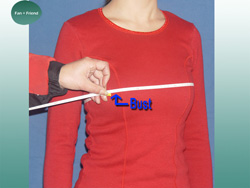 And below is garment size of bp bust of a blouse (not needed):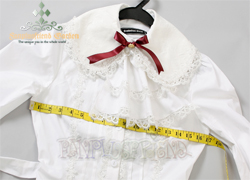 If lady body size bust, bp bust is 33in, the garment size would be larger than 32in, for a close fit blouse but none stretchy one, the garment bust size is 1-1.5 in larger than bp bust, for loose blouse, it's 2 in bigger, for a light close body coat, it's 2.5in larger, for a winter coat, it's 4.7 in bigger. Same situation as difference size of waist, shoulder width or hip, there are different standard according to design details.

All size you given to us, is supposed to net body size, not garment size.
All measurements should be given as instruction. (please click the linkages below to see instruction).
* optional data, giving them if you have special need here, unless these parts would be made as standard data.
Please check a while the instruction below before measuring:
Please do not loose the tapeline, all is Net size.
Let a friend or relative help you, when you only wear a close clothes.
If you have not a tapeline on hand, may use a rope and tell us the lengths.
Please give us measurements in unit you familiar, no need to conversion. Thanks again.
-------Thanks very much for your patience. For clients cannot try their clothes on when they buy it by online transactions, customized sizes may be important for us to ensure well fit.--------
Bust (Chest circumference)

Please measure your bust circumference with your bra.
Note:
The bust circumference here is BP bust, NOT a bra size
(EX: a US bra size marked as 34C, where 34 means the UPPER bust circumference is around 34inches, C is the difference of BP circumference minus upper bust circumference. So if your bra size is 34C, not mean your bust is 34inches, it's incorrect, your actual BP bust is much larger than 34 inches (they should be 34inches+5.9inches); While European and Asian Bra size is listed like 75C, where the 75cm is the UNDER bust circumference, C is the difference of bp circumference minus upper bust circumference. Your BP bust circumference is 75cm+15cm).

Waist (circumference)

Hip (circumference)

Shoulder Width

Arm Length